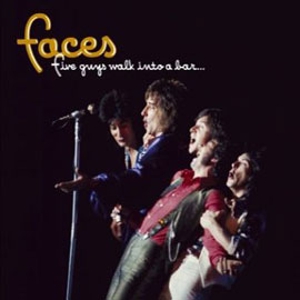 In a perfect world, the notion behind compiling a box set by a seminal artist from the rock 'n' roll canon is as follows: to present the argument for why that artist is truly essential to the history of recorded music. This can be accomplished in any number of ways, but the ideal method involves assembling the best-known album and single tracks, live stuff and (if possible) unreleased material that shows the artist in the best possible light—all this in a dynamite package. Too often, however, record labels get lazy and go for the quick easy fix, doling out too many previously released catalog items with a couple of inconsequential rarities to make the purchase necessary for diehard fans.
Not so in the case of Rhino's Faces retrospective, Five Guys Walked Into A Bar. Building on the band's excellent Good Boys When They're Asleep best-of, this collection is the new standard by which box sets should be judged. The Faces—Ronnie Lane (bass), Ron Wood (guitar), Kenny Jones (drums), Ian McLagan (keyboards) and some guy named Rod Stewart (vocals)—were, between 1970 and 1973, one of the most exciting live rock bands in the world. During these years they toured the States almost incessantly and it was in rust-belt towns like Detroit where they made their mark—in jaded L.A. they'd play a club, in the Motor City, a 6,000-seat auditorium. That their records were never properly received is an injustice that has slowly but surely been amended by time.
Produced by McLagan with Rhino's Patrick Milligan as executive producer, this four-disc set collects 67 cuts. Only 22 of those come from the four proper Warner albums issued under the band's moniker—First Step, Long Player, A Nod Is As Good As A Wink… To A Blind Horse, and Ooh La La. The remaining 45 are studio outtakes, singles and B-sides, stuff from the soundtrack to Mahoney's Last Stand, studio and live cuts, rehearsals, television appearances and the band's final recording session. Take note: there's no filler here, no padding to make this set bigger than it has any right to be. In addition, the sound is phenomenal on both the studio tracks and the live stuff.
A few nuggets, among the many highlights, are a 1971 studio cover version of John Lennon's "Jealous Guy," a first rehearsal version of Willie Dixon's "Evil" from 1969, live versions of the Barret Strong/Norman Whitfield composition, "I Wish It Would Rain" (originally recorded by the Temptations), "You're My Girl (I Don't Want To Discuss It)," "Love In Vain" and a medley of "Around the Plynth/Gasoline Alley" and "Maybe I'm Amazed" all live at the BBC, an early performance of "Maggie May," from "Top Gear," "The Stealer," and "Angel" from BBC Radio: In Concert, a rehearsal of Big Bill Broonzy's "I Feel So Good," and an impromptu rehearsal between Lane and McLagan of "I Came Looking For You," from a room at the Marie Antoinette Hotel in New Orleans.
In addition to the music, the package contains a great historical essay and appreciation byRolling Stone's David Fricke in his loosest, most immediate and engaging prose ever, two different pieces by McLagan, one to introduce the box and one as a memorial to Lane who passed away in 1997, appreciations by Jeff Tweedy, Billy Bragg, Glen Matlock, Black Crowes guitarist Rich Robinson, Slash of Guns N' Roses, and Gaz Coombes of Supergrass, and an extremely detailed set of track notes.
It's easily the finest reissue thus far in 2004, and will be tough to beat by year's end. Rhino's team and McLagan have exceeded all expectations here, and hopefully, the long deserved reassessment of The Faces' place in rock history can now begin.