Regrettable
The troubling things I learned when I re-reported Bob Woodward's book on John Belushi.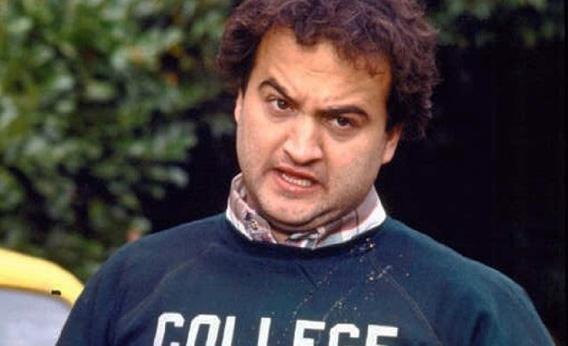 John Belushi in
Animal House
, 1978
Courtesy of Universal Pictures
A little more than a week ago, during an interview with Politico, Bob Woodward came forward to claim he'd been threatened in an email by a "senior White House official" for daring to reveal certain details about the negotiations over the budget sequester. The White House responded by releasing the email exchange Woodward was referring to, which turned out to be nothing more than a cordial exchange between the reporter and Obama's economic adviser, Gene Sperling, who was clearly implying nothing more than that Woodward would "regret" taking a position that would soon be shown to be false.
A rather trivial scandal, but the incident did manage to raise important questions about Woodward's behavior. Was he cynically trumping up the administration's "threat," or does he just not know how to read an email? Pretty soon, those questions tipped over into the standard Beltway discussion that transpires anytime Woodward does anything. How accurate is his reporting? Does he deserve his legendary status?
I believe I can offer some interesting answers to those questions. Thirty-one years ago, on March 5, 1982,
Saturday Night Live
and
Animal House
star John Belushi died of a drug overdose at the Chateau Marmont in Los Angeles—which, bear with me a moment, has more to do with the current coverage of the budget sequester than you might initially think.
*
Two years after Belushi died, Bob Woodward published
Wired: The Short Life and Fast Times of John Belushi
. While the Watergate sleuth might seem an odd choice to tackle such a subject, the book came about because both he and Belushi grew up in the same small town of Wheaton, Ill. They had friends in common. Belushi, who despised Richard Nixon, was a big Woodward fan, and after he died, his widow, Judy Belushi, approached Woodward in his role as a reporter for the
Washington Post
. She had questions about the LAPD's handling of Belushi's death and asked Woodward to look into it. He took the access she offered and used it to write a scathing, lurid account of Belushi's drug use and death.
When Wired came out, many of Belushi's friends and family denounced it as biased and riddled with factual errors. "Exploitative, pulp trash," in the words of Dan Aykroyd. Wired was so wrong, Belushi's manager said, it made you think Nixon might be innocent. Woodward insisted the book was balanced and accurate. "I reported this story thoroughly," he told Rolling Stone. Of the book's critics, he said, "I think they wish I had created a portrait of someone who was larger than life, larger than he was, and that, somehow, this portrait would all come out different. But that's a fantasy, not journalism." Woodward being Woodward, he was given the benefit of the doubt. Belushi's reputation never recovered.
Twenty years later, in 2004, Judy Belushi hired me, then an aspiring comedy writer, to help her with a new biography of John, this one titled
Belushi: A Biography
. As her coauthor, I handled most of the legwork, including all of the interviews and most of the research. What started as a fun project turned out to be a rather fascinating and unique experiment. Over the course of a year, page by page, source by source, I re-reported and rewrote one of Bob Woodward's books. As far as I know, it's the only time that's ever been done.
Wired is an anomaly in the Woodward catalog, the only book he's ever written about a subject other than Washington. As such, it's rarely cited by his critics. But Wired's outlier status is the very thing that makes it such a fascinating piece of Woodwardology. Because he was forced to work outside of his comfort zone, his strengths and his weaknesses can be seen in sharper relief. In Hollywood, his sources weren't top secret and confidential. They were some of the most famous people in America. The methodology behind the book is right out there in the open, waiting for someone to do exactly what I did: take it apart and see how Woodward does what he does.
Wired is an infuriating piece of work. There's a reason Woodward's critics consistently come off as hysterical ninnies: He doesn't make Jonah Lehrer–level mistakes. There's never a smoking gun like an outright falsehood or a brazen ethical breach. And yet, in the final product, a lot of what Woodward writes comes off as being not quite right—some of it to the point where it can feel quite wrong. There's no question that he frequently ferrets out information that other reporters don't. But getting the scoop is only part of the equation. Once you have the facts, you have to present those facts in context and in proportion to other facts in order to accurately reflect reality. It's here that Woodward fails.
Over and over during the course of my reporting I'd hear a story that conflicted with Woodward's account in Wired. I'd say, "Aha! I've got him!" I'd run back to Woodward's index, look up the offending passage, and realize that, well, no, he'd put down the mechanics of the story more or less as they'd happened. But he'd so mangled the meaning and the context that his version had nothing to do with what I concluded had actually transpired. Take the filming of the famous cafeteria scene from Animal House, which Belushi totally improvised on set with no rehearsal. What you see in the film is the first and last time he ever performed that scene. Here's the story as recounted by Belushi's co-star James Widdoes:
One of the things that was so spectacular to watch during the filming was the incredible connection that [Belushi] and Landis had. During the scene on the cafeteria line, Landis was talking to Belushi all the way through it, and Belushi was just taking it one step further. What started out as Landis saying, "Okay, now grab the sandwich," became, in John's hands, taking the sandwich, squeezing and bending it until it popped out of the cellophane, sucking it into his mouth, and then putting half the sandwich back. He would just go a little further each time.
Co-star Tim Matheson remembered that John "did the entire cafeteria line scene in one take. I just stood by the camera, mesmerized." Other witnesses agree. Every person who recounted that incident to me used it as an example of Belushi's virtuoso talent and his great relationship with his director. Landis could whisper suggestions to Belushi on the fly, and he'd spin it into comedy gold.